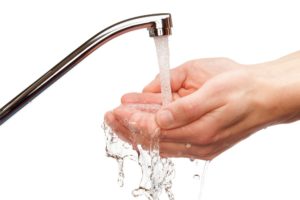 Despite some of the warmer temperatures most places have been experiencing lately, it is still winter and it is still the time of year that lots of viruses and illnesses are going around! The news has been talking about the number of influenza cases as well as strep throat and colds lately. Yuck. No one likes to be sick and while we can't stay in a "bubble" to protect ourselves, there are some things we CAN do to stay healthy!
First, if you do hang out inside all of the time please make sure you are washing your hands.  All…the…time! Washing your hands is the best way to prevent getting sick. When you wash your hands, use a mild soap and warm water and try to scrub vigorously for about 20 seconds, or how long it takes you to sing "happy birthday". Then rinse and use a paper towel to dry. You can't wash your hands enough! Don't forget to wash after using the bathroom, before you eat a snack or meal and after you sneeze or blow your nose.
Next, try to get outside, even if it's for 10-15 minutes a day. Getting fresh air does a lot of good for your mind and body. And if it's a sunny day, the best source of Vitamin D is direct sunlight!  Vitamin D can help boost your immune system and your mood so enjoy being in the sun!
Third, try to eat healthy.  Try to make sure you are having 5-6 servings of vegetables and 3-4 servings of fruit each day. Getting your daily requirements of vitamins and minerals naturally does a body good. Another part of a healthy meal includes adequate protein (chicken, fish, meat), so try to fill your plate with good options.
If you aren't getting your daily amount of fruits and veggies, try a multi-vitamin and even a probiotic. Both of these help with overall wellness and can help guard you from getting sick.
Lastly, make sure you are up to date on your immunizations including your flu shot!  Immunizations can help your body fight off specific viruses and illnesses you might come in contact with. If you are not up to date on your immunizations or if you have questions about which ones you might need to get, please call our office!
We hope that you are enjoying your winter and are staying healthy. Hopefully these tips will help keep you healthy and happy this season!
At Carlos and Parnell, M.D., P.A. our professional and caring staff makes the difference with patient care. – See more at: http://carlosparnellmd.com/thermometers-and-babies/#sthash.MFvVROkI.dpuf