We recognize that infertility is a deeply personal issue affecting couples in all areas of their lives and we are committed to providing couples with a more personal approach to infertility treatment. Our personal and caring atmosphere can provide a level of comfort most needed during these complex and emotional periods in a couples' life.
At Carlos & Parnell, M.D., P.A. patients are taken care of by their doctor, where they feel confident that their doctor is in charge of their care.
Our fertility program is designed to address each couple's unique medical,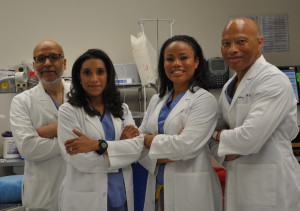 emotional and financial need. Our goal is to provide you with the best fertility and gynecological care and help you fulfill your dream of expanding your family. We offer personalized, compassionate care.
We believe the best way to achieve a positive experience and a successful outcome is to establish a level of trust and confidence which will minimize the anxieties and stresses commonly associated with fertility treatment. We will provide you with the best care possible.
Most couples are able to become pregnant after at least one year of trying. Those who cannot, or who suffer from repeated miscarriages, may be infertile. Over 7 million women in the US have difficulty getting pregnant, although the problem is commonly due to male factors. Infertility can be a troubling problem for couples trying to start a family.
There are several treatment options available to help treat this condition. Certain medications can help women's infertility problems, while assisted reproductive technology (ART) can mix the sperm and eggs and then place them into the women's body. Your doctor can help you decide which treatment option is best for you.