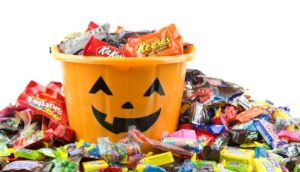 I hope that you all had a happy Halloween! It's always fun to see the kids dressed in costumes running around getting as much candy as possible! It is amazing to me to see how much candy can be both acquired and eaten by little ones, as well as parents!
After Halloween when the candy bowls are stocked at the office is when many people struggle with sugar addiction! The afternoon "slump" comes around 3pm and people reach for a Snickers or Twix that's left over from Halloween. It happens each year! While it's true the sugar can provide some energy, it's not sustainable and it can actually leave you feeling more tired than when you started!
That said I wanted to go over a few ideas for how to boost natural energy during the day without reaching for the Halloween candy bowl.
First – make sure that you are staying hydrated during the day. Water is always best. If we are dehydrated it's common to feel tired and sluggish.
Second – if you are feeling a slump, reach for an energy boosting snack. One with a protein such as some trail mix or nuts, an apple with peanut butter, or cheese with a few crackers. Finding a nutritious snack can help boost your energy!
Third – take a quick walk outside or head to the stairwell (if your building has one) to get your heart pumping for 5-10 minutes! It's not always easy to take a break but getting your heartrate up can help turn your "sleepies" into energy!
Last – make sure that you are getting enough rest at night. You should aim for around 8-9 hours per night. If you are not getting that much rest, try to head to bed earlier.
In general, enjoying a few pieces of Halloween candy isn't terrible for you but you don't want to make it a habit to snack on treats just because they are in your home or at your work. Try to make a conscious decision to fill your body with what it needs and loves; water, fruit, vegetables, proteins, etc.
If you would like to talk further about how to reduce your sugar intake or how to structure a healthy diet, contact us today.
At Carlos and Parnell, M.D., P.A. our professional and caring staff makes the difference with patient care. – See more at: http://carlosparnellmd.com/thermometers-and-babies/#sthash.MFvVROkI.dpuf