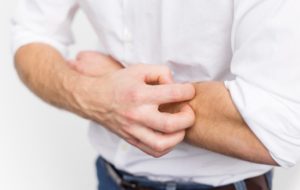 It's winter! And with the cold weather comes fun things like wearing sweaters, drinking hot chocolate and maybe even sledding; however, there are a few not so fun things that appear.  A major issue is that everything becomes dry!  What are the "things" that become dry?! Your skin, your hair and even your home!
The reason that so many things become dry over the winter is because we use a lot of heat! The heat zaps the moisture in the air causing everything to literally dry out.
One of the biggest issues that people deal with being "dry" is their skin. Do you ever feel itchy? Do you start to have red patches that just need a constant scratch? Or how about your lips? Do they ever start to peel and feel really dry? I'm sure at least one of those plagues you!
Here are a few remedies to help combat dry skin (and lips):
Drink lots of water, and make sure you are hydrated. This can help with your general skin and body moisture.
Try to use a thick lotion to relieve the dryness. For example Eucerin or Cetaphil are great choices. Lather on the lotion once you come out of your shower or bath before your skin dries off so that you can also help trap the moisture in!
Blot, don't vigorously dry your skin off after a shower or bath.
Try to avoid a hot shower or bath and use warm water instead. Hot water is irritating on the skin.
Try a nice petroleum based lip cream or lip balm to help. Try to avoid licking your lips when you are outside (this can help dry them further!)
If you suffer from nose bleeds, try to put some Vaseline inside your nose at night. A thin layer can help add extra moisture and prevent nose bleeds!
Another area that gets dry during the winter is our home! This in turn impacts our skin and hair, but the entire house gets dry due to the heat we use. A great way to combat this dryness is to try to use a cool mist humidifier or a warm mist vaporizer. (Do use caution if you have a warm mist vaporizer with toddlers around – make sure the machine and the cord is on a high surface they cannot reach!) Adding the extra moisture to your bedroom or to the room you spend the most time can help provide what your skin and body needs!
Lastly, if you get dry eyes due to the dry atmosphere, try a lubricating drop from the store. There are many brands and types so if you need further direction feel free to call us or call your eye doctor! Dry eyes are very common for people to deal with in the winter.
If you have any other questions about your health or any other dryness concerns, please call us! We are here to help you get through the winter safely and comfortably.
At Carlos and Parnell, M.D., P.A. our professional and caring staff makes the difference with patient care. – See more at: http://carlosparnellmd.com/thermometers-and-babies/#sthash.MFvVROkI.dpuf