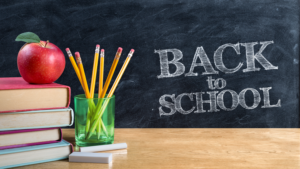 It's August and that means a few things. First, hot weather! Second, back to school!
Many parents are excited and somewhat sad to see the lazy days of summer come to an end and the start of school commence. Going back to school for people of any age means a time of transition! Here are a few things to keep in mind while you transition in to a new normal.
Get out in front of dates!
Schools have dates and times for when the bell rings and when various forms and papers are due. Sit down with a piece of paper and write down all of the dates and times that you need to make sure you don't miss anything! If you can't find a date or time for something then email the school to find out! If you need a physical or health exam, don't forget to call us!
Prepare your mind and body!
Going back to school means going back to long days in classrooms and being mentally active. Most people take some time to adjust to a new schedule and might be a bit more tired. That said, try to go to bed 30 minutes earlier at night, and make sure you are eating healthy (hint: a mix of colorful fruit and vegetables, a protein, some dairy and some carbs!). You want to start the school year off feeling rested and healthy.
Back to school shopping!
Does your school have a special uniform required? Do your shoes and pants fit? If not, it's time to do some back to school shopping! Many retailers have sales this time of year to help make this fun event easy on the wallet. Look for coupons and offers online as well, and think about what size(s) you might need in order to last the upcoming school year.
Talk about it!
Going back to school means changing routines, meeting new friends, learning new things and fun times ahead! It's always a good idea to talk about what changes will happen, how this might impact the family, and to express any feelings that family members might be going through. Share openly with your family about this new season. It's an exciting one.
As always, if you have any health concerns or are feeling a bit more anxious about this back to school change then usual (and need someone to talk to), please call us today!
At Carlos and Parnell, M.D., P.A. our professional and caring staff makes the difference with patient care. – See more at: http://carlosparnellmd.com/thermometers-and-babies/#sthash.MFvVROkI.dpuf